Blinn College Health Sciences Summer Camp introduces students to healthcare career options
Local 7th and 8th graders used Blinn's state-of-the-art clinical simulation labs to learn about real-world emergency scenarios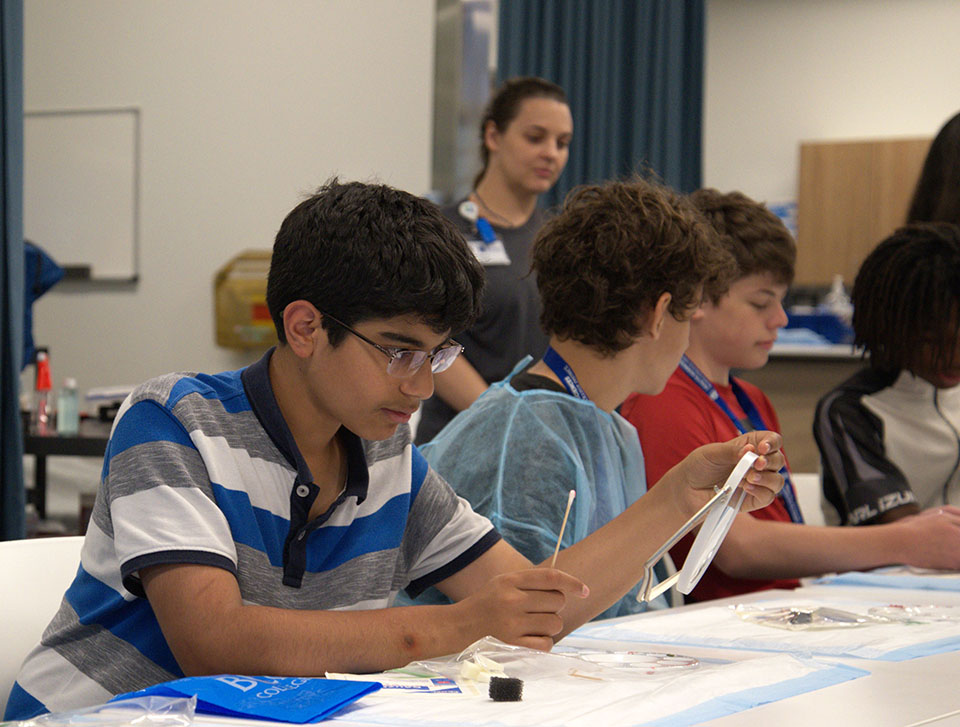 June 28, 2023
Carefully combining red and brown makeup, 13-year-old Yash Ganatra smiles as he admires the mock scrape he created on his hand. Participating in a moulage simulation, Ganatra traveled all the way from Sugar Land to attend the eighth annual Blinn College District Health Science Summer Camp.
"I have always wanted to go into the health sciences. I really like oncology and radiation, so I'm excited to see the anatomage table and the radiologic technology equipment," Ganatra said. "My favorite part so far has been the virtual reality equipment. It gave us a real-life simulation of how it would be to operate in an actual hospital."
Hosted at Texas A&M-RELLIS, the three-day camp introduced Ganatra and 28 other 7 th and 8 th graders to a wide variety of high-demand careers in the health sciences. Students and faculty from Blinn's Associate Degree Nursing (ADN), Emergency Medical Services (EMS), Fire Science, Physical Therapist Assistant (PTA), Radiologic Technology, Surgical Technology, and Veterinary Technology programs demonstrated the basics of each profession, from the equipment they use to the techniques necessary to ensure quality, compassionate patient care.
"Our camp helps introduce the participants to all the different areas in the health sciences and exposes them to the various specialties they can explore," said Debra Allbritton, Radiologic Technology Program Clinical Coordinator. "It's also a wonderful learning opportunity for our Blinn students because we take a step back and let them share their enthusiasm and excitement by being the teachers. This reinforces the learning for them because they must explain their area to someone much younger than them."
The camp was primarily held at the RELLIS Academic Alliance Complex on the Texas A&M-RELLIS in Bryan. This facility includes 16,000 square feet dedicated to clinical simulation laboratories featuring the latest technologies.
On the first day of the camp, participants scrubbed in with Surgical Technology Program students to get a first-hand look at the vital role surgical technologists play in preparing and assisting during surgeries. Campers also explored the equipment inside a working ambulance and learned important lifesaving skills. ADN faculty and students taught camp participants to take blood pressure and check vital signs, start an IV using a virtual IV system, and simulated hospital scenarios using Blinn's new virtual reality healthcare simulation program.
"The campers are still young so they have a lot of time to decide on a pathway, but we can give them insight into our own experiences," said Alexus Fletcher, a second-year ADN student. "To feel like you're guiding these young students to a potential career is very rewarding."
On day two, students learned what veterinary technicians do and even simulated performing CPR on a dog. They used makeup to create fake injuries and bruises, commonly called moulage, for emergency simulation events. The Radiologic Technology Program assisted students in conducting x-rays using state-of-the-art equipment, even giving participants a glimpse inside their own smartphones. The PTA Program showed campers how important physical therapy is to the recovery process, demonstrated a variety of restorative exercises, and used advanced technology like an anatomage table to give campers a closer look at different body systems.
On the final day, students explored a working fire truck during a visit to the Brayton Fire Training Field to learn more about the Fire Science Program. The camp culminated in a simulation event featuring live "patients" simulating real-world emergency scenarios. Campers shadowed Blinn faculty and students as they were guided through the entire treatment process, from emergency response to radiology and from nursing to physical therapy.
Ganatra said the camp has inspired him to pursue a future career in the sciences.
"It was so interesting to hear from the students who are studying these areas. They really know their stuff," Ganatra said.
Blinn's Division of Health Sciences offers Associate Degree Nursing, Dental Hygiene, Emergency Medical Services, Fire Science, Health Information Technology, Physical Therapist Assistant, Radiologic Technology, Surgical Technology, and Vocational Nursing programs that place graduates on the fast track to rewarding healthcare careers. The recently launched Associate of Science degree in Health Sciences-Nursing includes prerequisite courses that prepare students to transfer into one of Blinn's other health sciences programs or to a four-year university.
For more information, visit www.blinn.edu/health-sciences.
Enjoy this article? Share it with one click!