Surgical Technology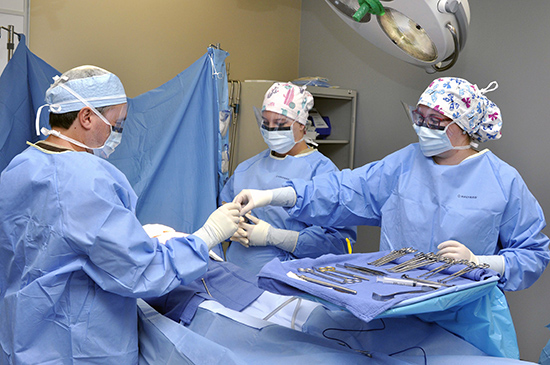 Blinn's Surgical Technology Program will host an information session at 5:30 p.m. Thursday, Dec. 6, in Room 2600 of the Health Science Center Clinical Building I. For more information, contact Victoria Parnell at 979-691-2408 or victoria.parnell@blinn.edu.
Surgical technologists are an integral part of the surgical team, assisting surgeons, anesthesiologists, and registered nurses in providing care to patients in the operating room. The surgical technologist works under medical supervision to facilitate the safe and effective conduct of invasive surgical procedures. This individual ensures that the operating room or environment is safe, that equipment functions properly, and that the operative procedure is conducted under conditions that maximize patient safety.
Students interested in the program should be in good physical and mental condition, be able to perform under stress, and possess manual dexterity. The Blinn College Surgical Technology Program is a two-year associate degree program. The program includes hours of clinical observation and experience in the operating room as well as lecture and laboratory classes. After successful completion of the required curriculum, students earn a degree in applied science.
Contact Us
Linda Hill
Director, Surgical Technology Program
979-691-2088
Ms. Victoria Parnell  
Administrative Assistant, Surgical Technology Program
979-691-2408
Physical Address
Texas A&M Health Science Center
Clinical Building 1, Room 2533 or 2503
8441 Riverside Parkway
Bryan, TX 77807
Related Links
Resources
Contact:
Ms. Linda Hill, BBA, CST - Surgical Technology Program Director