Affordability
Students who choose Blinn save thousands compared to the average cost of attendance at a Texas university.
In addition to Blinn's $64 general fee, the College's tuition rate is set according to students' permanent place of residence. Students who reside in Blinn's taxing district located in Washington County, Texas, pay a tuition rate of $54 per credit hour.
Texas residents who officially reside outside of Washington County pay an out-of-district tuition rate of $111 per credit hour. Students from outside the State of Texas pay an Out of State/Foreign tuition rate of $271 per credit hour.
To see the General Fee and Tuition Schedule, please visit the Blinn College District Catalog.
How Does That Compare?
At an estimated $5,340 for 30 credit hours, Blinn's out-of-district tuition and fees offer students a savings of $3,914, approximately 42%, compared to state residents at the average Texas public university (source: www.CollegeForAllTexans.com).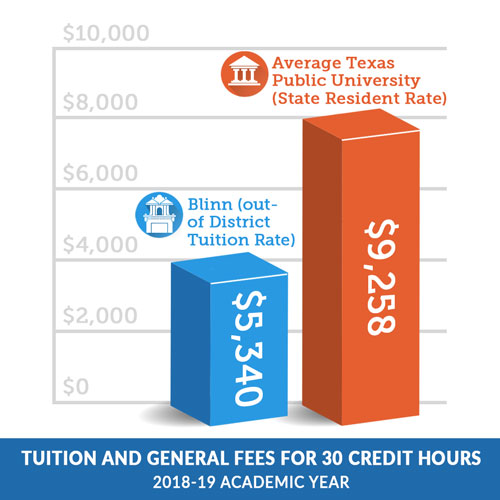 Scholarships
In addition to Blinn's low tuition and fees, the Blinn Foundation offers more than 200 endowed scholarships available to incoming and returning students from a wide range of backgrounds, majors, and experiences. Though some scholarships are restricted to students who fit specific criteria, if a student who exemplifies those requirements does not apply, the scholarship may be offered to a wider range of students. Students are considered based on high academic achievement, participation in student activities, and community involvement. To apply for all of Blinn's endowed scholarships, complete a single application by visiting www.blinn.edu/scholarships. 
Related Links