Dental Hygiene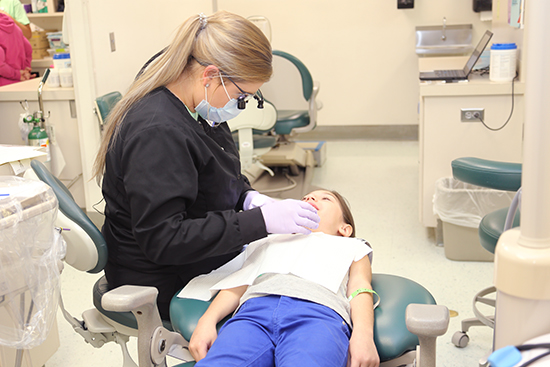 Change the world, one smile at a time.
Being a dental hygienist makes you an integral part of a dental team. Dental hygienists work directly with patients by cleaning teeth, examining patients for oral diseases, taking x-rays, and providing addtional preventive dental care.
The Blinn College District Dental Hygiene Program is a competitive-entry program accepting 14 students each Fall semester. Upon satisfactory completion of the two-year program, students receive an Associate in Applied Science degree and are eligible to apply to take the National Board Dental Hygiene Examination and a regional/state clinical board examination.
In addition to the Dental Hygiene Program, Blinn offers its own dental hygiene clinic open to the community. Services are provided by dental hygiene students under the supervision of a general dentist and dental hygiene faculty, all of whom are licensed in the State of Texas. Request your appointment today!
The Blinn College District Dental Hygiene Program (Program) meets college, state, regional and national requirements. At the national level, the accrediting body is the American Dental Association Commission on Dental Accreditation (ADA CODA/Commission). The Commission is a specialized accrediting body recognized by the United States Department of Education and its scope encompasses dental programs, advanced dental programs, and allied dental education like dental hygiene. The Program in Dental Hygiene has been granted the accreditation status of approval without reporting requirements by the Commission on Dental Accreditation based on the 2013 Program review. The next Program site visit by the Commission is scheduled to occur in 2020.
The ADA CODA will accept comments and complaints about our Program. The Commission will consider only formal, written, signed complaints.  Unsigned complaints will be considered "anonymous complaints" and oral complaints will not be considered. Anonymous comments/complaints may be received at any time and will be added to the respective program's file for evaluation during the program's next scheduled accreditation site visit. An appropriate complaint is one that directly addresses a program's compliance with the Commission's standards, policies and procedures.
You may contact the Commission at:
The American Dental Association
Commission on Dental Accreditation
211 East Chicago Avenue
Chicago, Illinois 60611
Telephone: 1-800-621-8099 1-312-440-4653
www.ada.org/en/coda
---
The Blinn College District does not discriminate on the basis of race, color, national origin, sex, or disability in its programs or activities. For information regarding Title IX, ADA, Section 504 and other anti-discrimination coordinators, see Required Notices.