HVAC Technician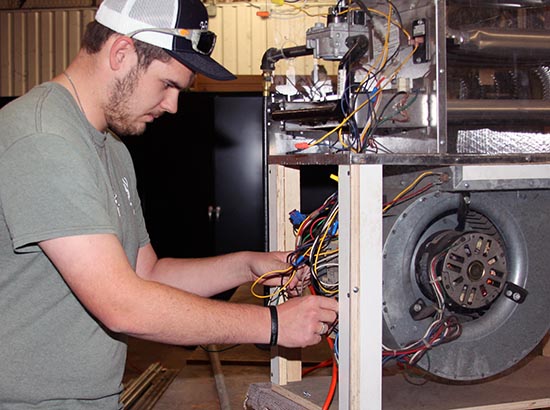 This hands-on, 20-week course includes an introduction to the construction industry, basic electricity for HVAC, refrigeration principles, refrigerants, and Environmental Protection Agency (EPA) recovery certification preparation. The course meets at The Texas A&M University System's RELLIS Campus.
According to the U.S. Bureau of Labor Statistics, heating, air conditioning, and refrigeration mechanics and installers earn a median salary of $45,910 per year, or $22.07 per hour. Between 2016 and 2026, demand for highly trained industry professionals will increase 15 percent, creating an additional 49,100 jobs.
The course follows National Center for Construction Education and Research (NCCER) curriculum. This nationally recognized curriculum was developed with the cooperation of more than 125 construction CEOs, trade association officials, and academic leaders. Students who complete these courses will earn the Occupational Safety & Health Administration (OSHA) 10-Hour Construction Certificate; the NCCER Core Construction Certificate; the NCCER HVAC Level I Certificate; and the Blinn College Certificate of Completion.
To register or learn more about the program, visit the Post Office Campus at 301 Post Office Street in Bryan, email trades@blinn.edu, or call 979-209-7205.
To see Blinn's full schedule of upcoming courses from the Division of Technical and Community Programs, please select the link below:
Contact:
979-209-7652
979-209-7205