Blinn College honors its first class of Paramedic-to-RN Program graduates
Eight nursing graduates are recognized in a ceremony at Texas A&M-RELLIS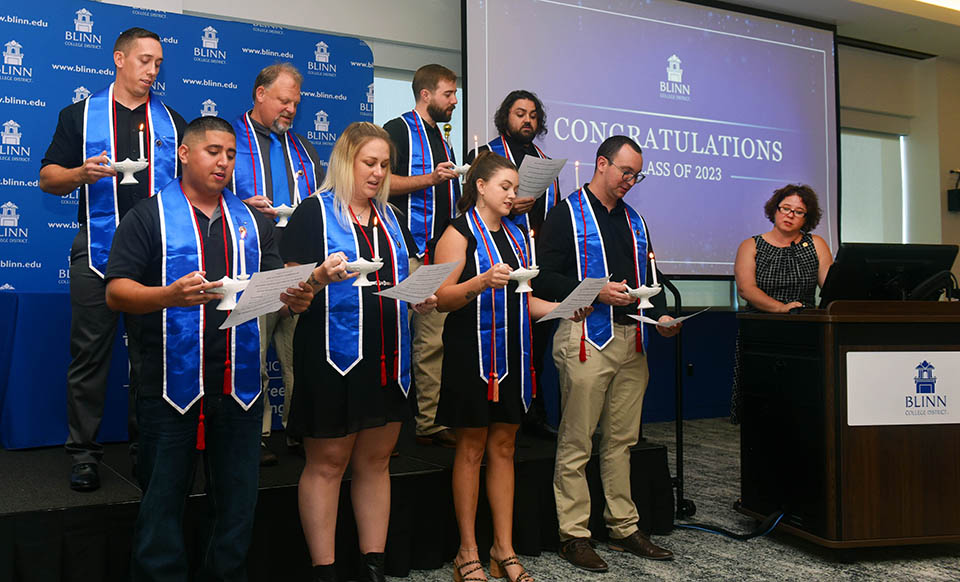 August 21, 2023
The Blinn College District recently celebrated the first graduating class of its paramedic-to-RN transition pathway, which allows working paramedics to apply their knowledge and skills toward an Associate of Applied Science (AAS) Degree in Nursing.
The 2023 graduating class includes Parker Arrants (Montgomery), Brandon Beck, Ramiro Gutierrez (Houston and Leona), Makayla Hallman, Krysten Cooper (Magnolia), Mark Rosenbaum (Brenham), Kyle Shimerka (Houston), and Tyler Vitek (Keller).
"Witnessing the achievements of our inaugural paramedic-to-RN graduates fills me with pride," Associate Degree Nursing Program Director Karla Ross said. "These students have exemplified unwavering dedication and passion for healthcare, transforming their paramedic expertise into a robust nursing foundation. The impact they will make in the healthcare field is bound to be extraordinary and we look forward to celebrating their future accomplishments."
The 60-credit-hour paramedic-to-RN transition pathway is an accelerated program that allows paramedics who wish to build upon their extensive medical training and experience to earn their nursing degree. According to the U.S. Bureau of Labor Statistics, the 2021 median salary for paramedics was $36,930 per year while registered nurses earned a median salary of $77,600.
At the RELLIS Academic Alliance Complex, Blinn ADN students gain hands-on skills utilizing the facility's 16,000-square-foot simulation laboratories. Blinn's Associate Degree Nursing Program has been recognized as one of the top programs in the state by NursingProcess.org, RNCareers.org, and RegisterNursing.org.
Students who complete Blinn's ADN Program and pass the National Council Licensure Examination (NCLEX-RN) have a job placement rate between 97 and 100% and are qualified for a wide array of nursing positions, including pediatric, geriatric, hospice, school, and clinical nursing.
For more information regarding the Paramedic-to-RN Transition Program, visit www.blinn.edu/adn/paramedic-to-rn.
Enjoy this article? Share it with one click!