Blinn Veterinary Technology Program honors 10 new graduates
Class of 2023 honored at pinning ceremony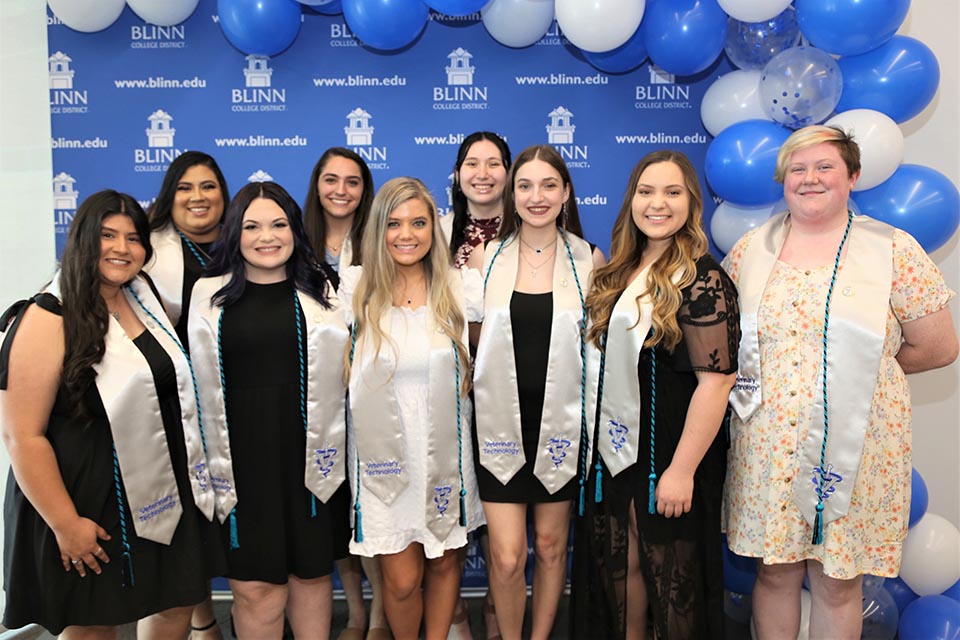 May 17, 2023
Ten students were recently honored with a pinning ceremony after graduating from the Blinn College District Veterinary Technology Program.
The 2023 graduating class includes Kaylei Cooper, White Oak; Paris Foster, College Station; Nora Goodyk, College Station; Paloma Guajardo, Crandall, Texas; Clarissa Martinez, Odessa; Morgan Odom, Bryan; Elizabeth Ryan, Iola; Sarah Tarpenning, Boardman, Oregon; Lauren Tye, College Station; and Jaqueline Yanez, College Station.
Odom served as president of Blinn's Veterinary Technology Student Organization and was honored for posting the highest grade point average. She said she decided to pursue a degree in veterinary technology after working in the animal care field for several years. She previously earned an engineering degree but feels veterinary technology is a better fit for her.
"I've been working in the (animal care) industry for about three years now and this helps solidify everything," said Odom. "I made a hard left from engineering and moved into this. It's a very compassionate field. It took a while to get settled in and all the hiccups worked out, but once I did that, it ran like a champ."
One of only 11 accredited programs in Texas, Blinn's Associate of Applied Science Degree in Veterinary Technology prepares students to become fully credentialed licensed veterinary technicians (LVTs).
With small class sizes and dedicated faculty, Blinn veterinary technology students benefit from the College's partnership with the Texas A&M University College of Veterinary Science & Biomedical Sciences. That relationship gives students hands-on training in every aspect of the wide-ranging field. Blinn is the only community college that has an agreement to complete laboratories and clinicals at Texas A&M's Veterinary Medical Teaching Hospital.
The program prepares Blinn graduates for a number of animal-related fields, including veterinary clinics, animal shelters, educational institutions, government agencies, laboratories, and research facilities. Blinn offers two pathways toward an Associate of Applied Science Degree in Veterinary Technology – a traditional two-year program in which courses and labs are completed on the Bryan Campus, and its blended, three-year program in which courses are completed online and labs are completed on campus.
According to the U.S. Bureau of Labor Statistics, the median salary for veterinary technicians was $36,850 a year in 2021. Between 2021 and 2031, the demand for veterinary technicians is expected to grow 20%, creating an additional 24,100 jobs nationwide.
For more information regarding the program, visit www.blinn.edu/veterinary-technology.
Enjoy this article? Share it with one click!