Higher education website ranks Blinn one of the nation's best online kinesiology associate degree programs
Blinn's Associate of Science in Kinesiology is offered online and on the Brenham, Bryan, and RELLIS campuses
September 8, 2023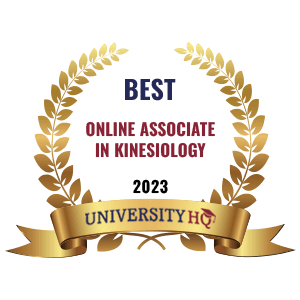 The Blinn College District Health and Kinesiology Program has been named one of the nation's best online programs by UniversityHQ.com.
The site, which compiles comprehensive information for students who wish to pursue higher education, ranked Blinn's Associate of Science in Kinesiology No. 6 in the nation among online associate degrees.
"The Health and Kinesiology Program is honored by this recognition," said Dr. Shelly Peacock, Assistant Dean and Professor of Kinesiology. "Our faculty strive for excellence by using the best practices and innovative tools in kinesiology. This recognition is a testament to the dedication and hard work of our faculty and instructional support staff."
Blinn offers the degree online and on the Brenham, Bryan, and RELLIS campuses. The Associate of Science in Kinesiology covers topics such as anatomy, physiology, nutrition, exercise science, and sports medicine. Through this course of study, students learn the theory and practical application of personal/community health, drug use and abuse prevention, first aid, and athletic training.
The program also provides students with a working knowledge of the kinesiology profession's many career opportunities, including careers as a teacher, pre-physical therapist, pre-athletic trainer, coach, community health educator, and more. Additionally, Blinn courses are highly transferrable, and the College's kinesiology graduates have transferred to Texas A&M, Sam Houston State, Texas State, Tarleton State, and more.
UniversityHQ.com ranked colleges across the nation based upon their acceptance, enrollment, retention, and graduation rates; the number of programs offered; the student-to-faculty ratio; affordability; graduates' average salary; and other factors. Data was collected from the National Center for Education Statistics, the U.S. Department of Education, the U.S. Bureau of Labor Statistics, and Payscale.com.
For more information regarding Blinn's Health and Kinesiology Program, visit www.blinn.edu/kinesiology.
Enjoy this article? Share it with one click!