Plumbing Pre-Apprenticeship Camp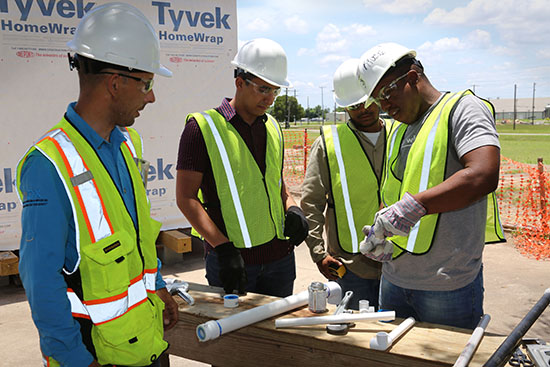 Offered in partnership with the Texas A&M Engineering Extension Service, the Plumbing Pre-Apprenticeship Camp is an accelerated, competency-based camp offered at the RELLIS Campus in Bryan. The camp includes instruction in English and Spanish, and scholarships may be available through Workforce Solutions Brazos Valley. To see if you qualify, call 979-595-2800 and schedule an appointment with a Workforce Solutions counselor.
Students who successfully complete the 144-hour pre-apprenticeship training camp earn the National Center for Construction Education and Research (NCCER) certification, the OSHA 10-Hour Construction Certificate, and certificates from the Blinn College District and TEEX. The NCCER certification is nationally recognized, qualifying students for jobs across the nation.
The Plumbing Pre-Apprenticeship Camp teaches students to students to identify and interpret civil, architectural, structural, mechanical, plumbing, and electrical drawings. Students learn to confirm accurate dimensions, generate Requests for Information (ROIs), locate plumbing entry points, and establish piping routes and fixture locations.
Registration forms can be obtained at www.blinn.edu/workforce/pdf/student-registration-form.pdf and submitted to workforce@blinn.edu or in person at Blinn's Post Office Campus located at 301 Post Office Street in Bryan. For questions or additional information, email workforce@blinn.edu or call 979-209-7205.
To see Blinn's full schedule of upcoming courses from the Division of Technical and Community Programs, please select the link below: