Blinn College, Brenham ISD to host Washington County Weld-Off on Wednesday, Oct. 23
More than 200 high school students anticipated for welding competition at the A.W. Hodde, Jr. Technical Education Center
October 17, 2019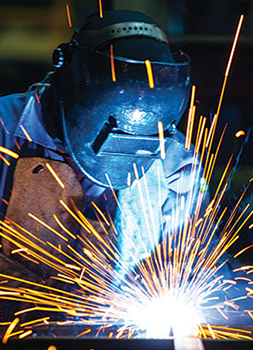 The Blinn College District and Brenham ISD will host approximately 200 high school students Wednesday, Oct. 23, when they host the Washington County Weld-Off at Blinn's A.W. Hodde, Jr. Technical Education Center.
Part of the Texas High School Welding Series, the Weld-Off begins shortly after 8 a.m. and will include a timed cutting contest, team project, and written test. The competition includes several welding tests using a combination of gas metal arc welding (MIG), flux-cored metal arc welding (FMAC) and shielded metal arc welding (SMAW).
With certified welding inspectors among the event judges, students will have the opportunity to meet the standards required for American Welding Society (AWS) certification and to earn their credentials at the competition.
Event organizers will present awards to first- through third-place winners, and local welding suppliers and employers will be in attendance.
The Blinn Welding Program offers competency-based training in welding technology for students pursuing college credit or continuing education. The hands-on, skills-development curriculum includes basic metallurgy and inspection procedures in addition to various welding techniques and processes.
College credit programs build upon each other and include a Basic Welding Certificate – Level I, a Welding Fundamental Certificate – Level II, an Associate of Applied Science Degree in Welding Technology. Blinn's credit welding courses are available at the Highway 60 Training Center in College Station, and non-credit technical skills training is available in College Station, the Hodde Center in Brenham, and at the Schulenburg Campus.
For more information regarding the Blinn Welding Program, visit www.blinn.edu/workforce or email welding@blinn.edu.
Media Contact
Richard Bray
Director of Communications, Media Relations, and Marketing
Blinn College District
Office: 979-209-7285
Richard.Bray@blinn.edu
Mailing Address
Marketing & Communications
902 College Ave.
Brenham, TX 77833
About Blinn College
With an enrollment of more than 18,000 students, Blinn ranks among the nation's leaders in transferring students to leading four-year universities and has received national recognition for affordable educational excellence.