Blinn College, Sol Education Abroad partner to offer award-winning study abroad opportunity
Sol Education Abroad's Granada, Spain, experience named GoAbroad.com's top study abroad program for 2017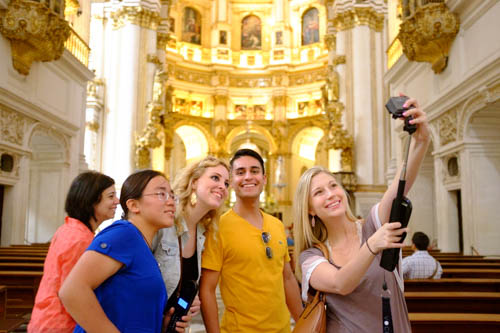 February 14, 2018
Blinn College and Sol Education Abroad are partnering for the fourth consecutive year to offer students an award-winning, affordable study abroad opportunity in Granada, Spain, May 25 through June 23.
Sol Education Abroad's study abroad experience in Granada recently was named www.GoAbroad.com top study abroad program for 2017. The one-month excursion offers students a once-in-a-lifetime opportunity to learn the Spanish language and immerse themselves in the culture of one of Spain's most ancient and diverse cities.
"We are excited to once again partner with Sol Education Abroad for this year's study abroad trip to Granada," Spanish Instructor Alex Garza said. "They pay very close attention to the students' needs, and make them feel comfortable and secure throughout the entire traveling experience."
To be eligible for the Granada trip, students must have completed or tested out of two beginning Spanish courses – Spanish 1411 and 1412 – or speak at an intermediate level. During the study abroad experience, students work through two intermediate Spanish courses, Spanish 2311 and 2312, while visiting historic sites, participating in cultural activities, and forging relationships with host families.
Students visit Seville and Cordoba, two of the most historic cities in Europe, spend a weekend in the high Sierra Nevada Mountains, and walk the beaches of Costa del Sol. They will explore the exotic Alhambra, the ancient palace of the Sultans, enjoy Granada's historic quarter, "El Albaycin," and watch authentic Flamenco dancers in the caverns where they have performed for generations. Students stay in pairs with host families, further enhancing language and culture immersion.
"This was a great opportunity to not only receive college credit, but to gain insight and knowledge about a culture different than my own," said Kayley Hart, who was a part of last year's study abroad trip to Granada. "It is an once-in-a-lifetime experience to immerse yourself in such a unique and historical location."
Students interested in the Granada trip must submit an application and a $500 deposit – which will be applied to the full payment – by Tuesday, Feb. 20. The trip costs $3,465, which includes housing, meals, excursions, and cultural activities. Students are responsible for Blinn course tuition and airfare. Sol Education Abroad accepts financial aid or scholarships, and can assist with any necessary paperwork.
For more information regarding the Granada trip email Garza at  alex.garza@blinn.edu.
Media Contact
Richard Bray
Director of Communications, Media Relations, and Marketing
Blinn College District
Office: 979-209-7285
Richard.Bray@blinn.edu
Mailing Address
Marketing & Communications
902 College Ave.
Brenham, TX 77833
About Blinn College
With an enrollment of 19,581 students, Blinn ranks among the nation's leaders in transferring students to leading four-year universities and has received national recognition for affordable educational excellence.