Hodde Center offers June welding inspection, phlebotomy, and certified nurse aide courses
Course registration is available at 2910 South Blue Bell Road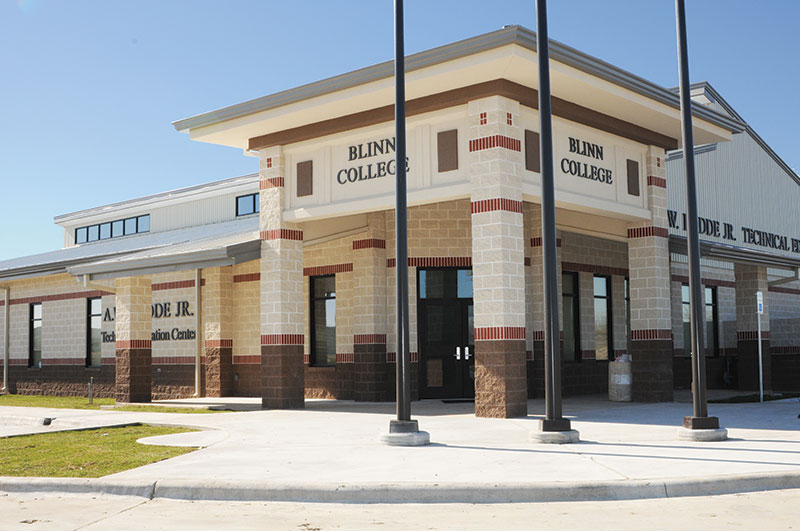 May 23, 2017
Blinn College will offer welding inspection, phlebotomy, and certified nurse aide courses this June at the A.W. Hodde, Jr. Technical Education Center.
Beginning Friday, June 2, the Hodde Center will offer an American Welding Society (AWS) Certified Welding Inspector (CWI) Examination preparatory course. This 64-hour course covers welding processes, heat control and metallurgy, weld examination, welding performance, definitions and terminology, symbols, test methods, reports and records, safety, cutting, brazing, and soldering.
Blinn's phlebotomy technician courses begin Monday, June 5. Phlebotomists draw blood for tests, transfusions, donation or research, and may explain the procedure to patients and assist in the recovery of patients with adverse reactions. According to the U.S Bureau of Labor Statistics, phlebotomists earn an average median wage of $14.74 per hour, and job openings are expected to grow 25 percent between 2014 and 2024.
Blinn also will offer day and night classes for certified nurse aide students beginning on Tuesday, June 6. Certified nurse aides provide basic patient care under the direction of nursing staff, including feeding, bathing, grooming, changing linens and transporting patients. Nurse aides often are employed in nursing care facilities, where they frequently serve as principal caregivers.
CNA jobs are expected to grow 21 percent nationally and 26 percent throughout Texas between 2012 and 2022, with 3,680 projected job openings each year. The average wage for a CNA in Texas is $10.75 per hour.
Blinn's technical and community education courses are designed to provide students the knowledge and abilities they need to enter the workforce immediately after completion of the courses. Many of these courses do not require a high school diploma and enrollment is fast and easy. As most of these courses are non-credit, students do not need to go through the College's admission process to enroll. Programs vary in length and are offered with daytime, evening, and weekend options.
Prospective students can register by visiting the Hodde Center, located at 2910 S. Blue Bell Road in Brenham, during regular business hours.
The 12,000-square-foot Hodde Center was built in 2009 to provide local training for a quality, viable workforce in Washington and the surrounding communities. As part of Blinn's Division of Technical & Community Education, its staff works in cooperation with local businesses to provide a well-trained workforce that strengthens the local economy.
Small business owners can enroll their employees in Hodde Center courses for free using Texas Workforce Commission Skills for Small Business Funds, and Hodde Center staff can help businesses complete the request form. Blinn also offers students access to scholarships through the Blinn College Foundation, private grants, and Workforce Solutions.
For more information regarding the Hodde Center and it course offerings, call 979-830-4443 or visit: www.blinn.edu/workforce.
| COURSE NAME/NUMBER | BEGIN | END | CONTACT HRS | DAYS | TIMES | COST |
| --- | --- | --- | --- | --- | --- | --- |
| WLDG 1027: AWS "CWI" Preparatory Course | 6/2 | 6/9 | 64 | MTWThF | 8:00 a.m. – 5:00 p.m. | $1,795 |
| PLAB 1023: Phlebotomy Technician | 6/5 | 7/24 | 96 | MTW | 8:00 a.m. – noon | $800 |
| PLAB 1023: Phlebotomy Technician | 6/5 | 7/24 | 96 | MTW | 5:00 p.m. – 9:00 p.m. | $800 |
| NURA 1001: Certified Nurse Aide | 6/6 | 8/9 | 80 | TW | 1:00 p.m. – 5:00 p.m. | $700 |
| NURA 1001: Certified Nurse Aide | 6/6 | 8/9 | 80 | TW | 5:00 p.m. – 9:00 p.m. | $700 |
Related Links
Archives
GET CONNECTED
Media Contact
Richard Bray
Director of Communications, Media Relations, and Marketing
Blinn College District
Office: 979-209-7285
Richard.Bray@blinn.edu
Mailing Address
Marketing & Communications
902 College Ave.
Brenham, TX 77833
About Blinn College
With an enrollment of 19,581 students, Blinn ranks among the nation's leaders in transferring students to leading four-year universities and has received national recognition for affordable educational excellence.