Manufacturing Technician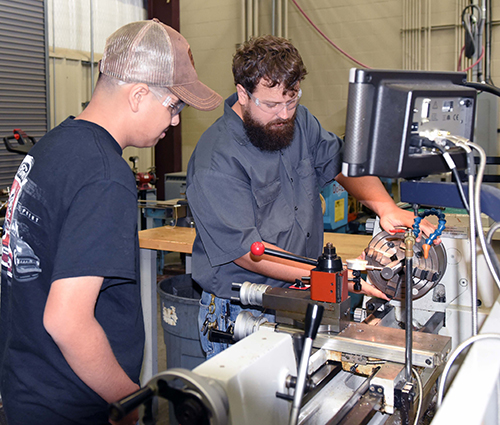 The Blinn College District's Manufacturing Technician Occupational Skills Award, available at the A.W. Hodde, Jr. Technical Education Center in Brenham, is a three-course program that prepares students to bring valuable skill sets to all areas of industrial production.
Students can take all three courses – Drafting: Autodesk AutoCAD, Basic Machine Shop, and Fundamentals of CNC Setup and Operations – in one semester or split the courses between multiple semesters.
Upon completion, students have an opportunity to earn an AutoDesk AutoCAD Certified User Certificate.
"I was really glad to hear that Blinn was offering AutoCAD because it is an extremely valuable tool to have in your skill set and anything that can be built can be designed using the software program," said student Daniel Henrion.
Basic Machine Shop introduces the students to machining fundamentals with an emphasis on shop safety, housekeeping, and preventative maintenance. Fundamentals of CNC Setup and Operations introduces the student to basic setup and operations of CNC machines.  Students will learn to set up fixtures, tool holders, and tooling, and to enter programs, make minor edits, and run programs using a Haas Control.
Students trained in CNC machining are in high demand by industry employers. CNC lathes are rapidly replacing older production lathes due to their ease of setting, operation, repeatability, and accuracy. According to the U.S. Bureau of Labor Statistics, CNC machinists earn a median annual wage of $42,600.
Fundamentals of CNC Setup and Operations is an introductory course that will assist students in understanding the relationship between computers and machines in industry and the impact CNC machines have made on every person on the planet. Instruction on machine terminology, theory, part layout, and bench work is included. An emphasis is placed on shop safety, housekeeping, and preventative maintenance.
To register and learn more, contact the Hodde Center by visiting 2910 S. Blue Bell Rd. in Brenham or emailing manufacturing@blinn.edu.
To see Blinn's full schedule of upcoming courses from the Division of Technical and Community Programs, please select the link below:
Contact:
979-830-4484
979-830-4443