Land Surveying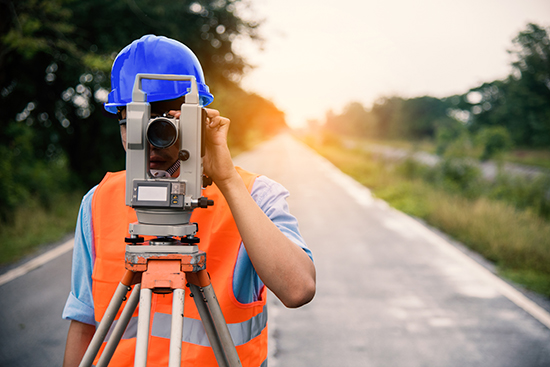 The Blinn College District's Land Surveying Program is designed to meet the community's growing demand for entry-level land surveyors. Land surveyors mark and document the location of legal property lines and establish official land and water boundaries for deeds, leases, and other legal documents. When taking measurements in the field, surveyors use the Global Positioning System (GPS) to locate reference points with a high degree of precision. Surveyors also use Geographic Information Systems (GIS) to present spatial information visually as maps, reports, and charts.
This five-week program consists of two courses: Introduction to Surveying and Field Engineering I. Those who successfully complete the program will earn the Occupational Safety and Health Administration 10-Hour Certification, the Texas Department of Transportation Flagger and Traffic Control Supervisor Certifications, and the National Center for Construction Education and Research Sight Layout Certification.
Students who complete the program will be on the path to becoming a Registered Professional Land Surveyor (RPLS). According to the U.S. Bureau of Labor Statistics, land surveyors earn a median pay of $61,140 per year, or $29.40 per hour. The market expects to hire an additional 5,000 land surveyors between 2016 and 2026, an incredible 11 percent growth in the job market.
In Introduction to Surveying, students receive an overview of the surveying profession and review the mathematics used in surveying. The course includes an introduction to basic surveying equipment with an emphasis on measurements, and provides instruction on surveying procedures and using calculation to determine precision.
Field Engineering I covers surveying equipment, sketches, proper field note taking, methods of staking, layout of a building site, and establishing horizontal and vertical controls.
To register for the program or to learn more how Blinn's Land Surveying Program can place students on the fast track to a high-demand career, visit the Post Office Campus at 301 Post Office Street in Bryan or call 979-209-7205.
To see Blinn's full schedule of upcoming courses from the Division of Technical and Community Programs, please select the link below: